One-on-One Online Training
You are unique and your path to fitness is not a one-size-fits-all journey. A customized fitness plan, including the right workout routine, proper nutrition and healthy daily habits, will contribute greatly to your lifelong physical health and mental wellness.
Let us help you raise your limits! 
The mission of Limitless Training is to empower you on your wellness journey. We will provide you with the motivation, inspiration and know-how to achieve your fitness goals. We do this by assessing your strengths and weaknesses and developing a fitness plan that will help you reach your goals, safely. Then, as you progress, we continually reassess and adjust your plan for optimal results.
Virtual Personal Training happens online, in real-time. Throughout each session your trainer is connected with you on a video call. Your fitness plan will be customized for your goals. During your training sessions, your coach will be live with you to answer your questions and to make sure your form is spot on. Most importantly, you have 100% of your trainers attention, as each session is one-on-one and not a group class.
This is a great option for those whose lifestyle and fitness goals are best supported virtually!
Please login or register for FREE to view pricing.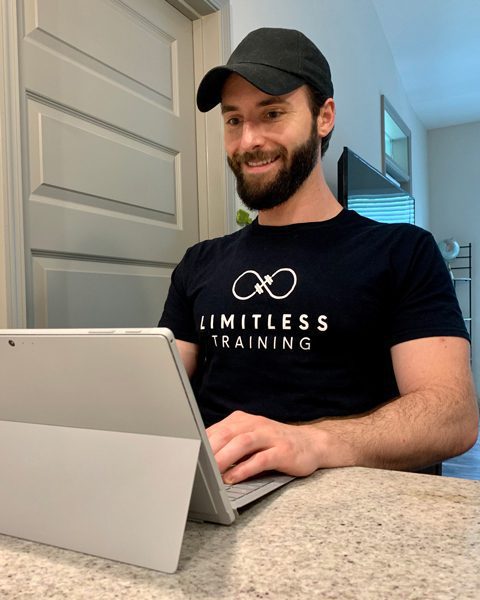 Day, evening and weekend training session times available.
Plans personalized for the equipment you already have, even if that's none!
Workout from your home, office or private gym while online with your trainer.
Frequently Asked Questions
What should you expect during your fitness journey with Limitless Training?
Why should I choose Virtual Training with Limitless Training?
Even beyond the fact that all of our trainers are certified and experienced, the most important reason is:
This is truly a one-on-one, online personal fitness training experience! 
When you are in an online session with your trainer, using your choice of popular video conferencing app, you receive 100% of your trainers attention. This is a personal training plan, customized just for you, not a group training plan.
I've committed to a training package. Now what?
After picking a plan and completing your initial payment, an agreement will open. Please review and, digitally, sign it on your screen. You will receive a confirmation email with a copy of the contract.
If you are a first-time client, an email will be sent to you. In that email, please click the Medical History & Fitness Goals Questionnaire button to fill out the form. This is an important step that helps us create your personalized training plan!
If you are a return customer, welcome back! We have your Medical History and Fitness Goals on file.
When can I schedule my sessions?
Within 24 hours of signing up, a personal trainer will contact you to schedule your first online training session.
Day, nighttime and weekend fitness training session times are available. We'll work with your busy schedule.
How will I reach my goals?
The information you provided on the Training Questionnaire will help your trainer to understand your wellness goals and overall lifestyle.
During your first session, we get to know you! Your trainer will assess your strengths and weaknesses and discussion your goals. You and your trainer will also discuss your busy lifestyle, training and nutrition habits, plus the everyday challenges you face.
Then, we tie it all together to create a fitness and wellbeing plan that will help you reach your goals and improve your quality of life, all while fitting into your day-to-day activities!
While we are not certified nutritionists or wellness coaches, we are always glad to share our knowledge and help you to successfully devise a plan on how to improve your eating and life habits, resulting in a happier and healthier you.
When will I see results?
With a commitment to diet and nutrition, in addition to dedication to your customized fitness plan, most people see:
• Strength and endurance improvements within 2 weeks.
• Weight loss by the end of 4 weeks.
Do I need exercise equipment?
Absolutely not!
Whether you have access full gym or no equipment at all, your personal trainer will devise a plan for you. This is a truly customized online, real-time fitness coaching program for everyone, including those working out at home who do not have access to equipment and those who have access to a full gym!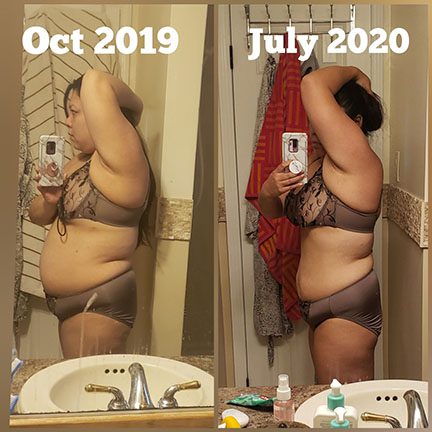 I tell everyone that signing up for a fitness training package with Limitless Training is the best investment I've ever made in myself. For the first time, I feel like I have control over my life!
I spent the majority of my life overweight and yoyo-ing... trying the newest fad diet... only to gain back more than when I started. And, I've tried the gym… which worked until my motivation wore off.
My trainer, Amanda created a simple workout and nutrition plan that I can follow. And, I don't even feel like I'm depriving or starving myself! She keeps me motivated. I'm excited to see her each week to get one-on-one guidance and encouragement, as my waist keeps shrinking! I can't believe how fast my body has responded to proper nourishment and hard work.
Thank you Amanda & Limitless Training for helping me get my life back!
– Colleen I.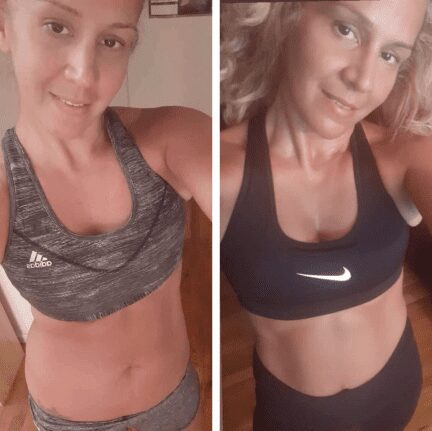 My fitness journey has been amazing with Limitless Training. Initially, I reached out for guidance on macros and making sure I was eating correctly for my goals. Limitless Training not only gave me a nutrition plan suited for me, but also checked in with me and adjusted the plan as needed.
Then, I decided to sign up for the Online Coaching Fitness Training Program. I have never been more challenged, motivated and fit! I was told that I would never have abs and that my stomach would remain a pouch after I had two children via Cesarean Section. With guidance from Limitless Training, I have surpassed my expectations and keep knocking goals down. I'm looking forward to the next phases of training!
– Stacey P.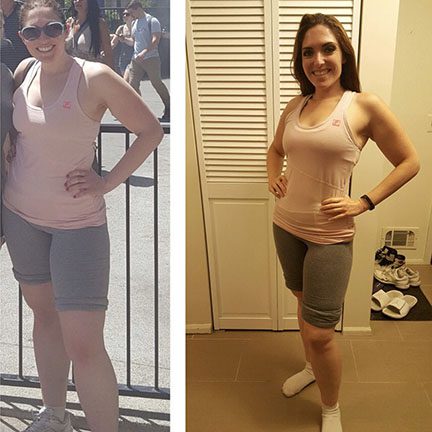 Before Amanda launched Limitless Training, I trained in-person with Amanda at my local gym, but eventually, moved to another town. After stopping my training with Amanda, I started to regress and could not maintain my previous form and began to put on weight. However, once I found out that Amanda started her own fitness business and began offering Virtual Personal Fitness Training, I signed up right away!
At that time, Amanda created a personalized workout plan for me and, within 6 months, I lost 16 lbs! Not only do Amanda's weekly fitness programs cater to my individual needs and goals, but her nutritional advice has helped me take the weight off at a safe and steady pace, without feeling hungry. I still get to eat all of the foods I like, but I just monitor what I'm eating more closely as I stay within my daily macros. Her program has transformed my body and my life. Continuing my fitness program with Limitless Training is the best decision I made for my health this year.
– Amanda C.
Sign up for a no obligation video consultation with a certified fitness trainer to discuss your goals and challenges. We'd love to have the opportunity to discover how we can help you raise your limits!
Reviews of Personal Training for Individuals
Only logged in customers who have purchased this product may leave a review.