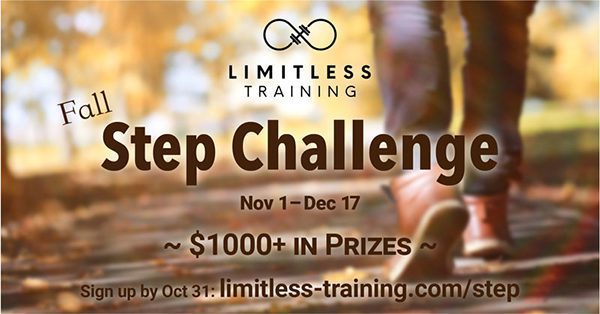 Step Up to Big Winnings!
Fall Step Challenge
A great opportunity to lose some pounds before the holiday rounds and win cash from our prize pool of at least $1000. The challenge starts on November 1, 2021 and ends December 17, 2021. Your goal is to reach 10,000 steps or more, every weekday (Monday through Friday), during the course of the challenge. The person who accumulates the most steps by the end of the challenge wins big cash! There are also 2nd and 3rd place cash prizes.
At minimum, the prizes are:
1st Place – $500
2nd Place – $300
3rd Place – $200
Here's how to participate:
Bet on yourself by signing up for the challenge by October 31. The signup fee is $100 and goes toward the prize pool. Sign up by visiting the step challenge page on our website.
On Monday, November 1, take and send a photo of your feet while standing on a scale. Make sure we can see your toes and your weight! Send the image to amanda.pero.fit@gmail.com to kick off your challenge. And get your daily 10K step goal started!
Challenge "weeks" run Monday through Friday. Starting on Friday, November 5 and until Friday, December 17, screenshot the weekly results from the your step app send them to amanda.pero.fit@gmail.com. You will have until Sunday at midnight to submit your previous week results. Don't forget! If you do not submit by Sunday at midnight, you will be disqualified.
By Sunday, December 19, when you submit your final steps for the challenge week ending on Friday, December 15, also send a new photo of your feet while standing on a scale to amanda.pero.fit@gmail.com.Be sure to include your new, reduced weight in the photo.
Winners to be announced via Facebook and Instagram post on December 22. (Arrangements to payout winners will be arranged at that time.)
Rules:
In order for this challenge to start, a minimum of 10 participants is required to reach a minimum $1000 prize pool. Every additional participant increases the prize pool!
First, Second and Third place winners will be determined by total number of steps from November 1 – December 17, excluding Saturdays and Sundays.
In the case of a total steps tie, percentage of body weight lost will be used to determine the tie-breaker. This would be your weight at the end of the challenge divided by your weight at the beginning of the challenge. (Hence, the photos on the scale.)
Contest is open to the public and does not require additional purchase. So be sure to invite your friends too!
The app used to count your steps must be an iPhone or Android approved. Meaning it either came installed on your phone or was downloaded from the Apple or Play store.
Screenshots may not be manipulated. Falsifying your steps will result in disqualification and forfeiture of entry fee.
Failure to submit weekly results by Sunday at midnight will result in disqualification and forfeiture of entry fee.
Reviews of Step Challenge
Only logged in customers who have purchased this product may leave a review.